Games That Lovers Play (1970) is one of my favourite types of period films, where the hybrid of period detail in its setting is completely meshed and mangled with the incidental period detail of the year in which it was made. These films must be at least forty years old for me to not rant and rave about the inaccuracies, of course, otherwise I will let rip for eternity. But, much like The Boyfriend, Games That Lovers Play is an homage to the Twenties – with some very Seventies sensibilities. Except it's even looser than The Boyfriend. And I mean loose in both senses of the word.
It is also a classic example of a film currently held in very low regard, which I maintain would be feted if it was French or Italian. It is kitsch, camp and aesthetically fascinating, even if it is rather a failure as a coherently plotted or acted film. The plot revolves around two rival Madams, who each wager that their 'best' girl is the best by challenging them to seduce unseduceable men.
The costumes are, naturally, my main interest. They play extremely fast and loose with the Twenties look, creating a slight difference between the more Edwardian domain of Lady Chatterley (yes, I know) and the more modern Deco feel of Fanny Hill's residence. (Yes, Fanny Hill…) The costumes are credited as being from Bermans and the 'Wardrobe' to one Ray Beck. They are a glorious, glorious mishmash of Edwardian, Twenties, Thirties and definitely plenty of 1970. My particular favourite is Lady Chatterley's Edwardian wrap dress (possibly house coat), exquisitely embroidered and trimmed with ostrich feathers. She strips it off, puts it back on and generally flounces around the grounds like something out of my wildest sartorial dream. In fact I adore this dress so much that I turned it into a gif.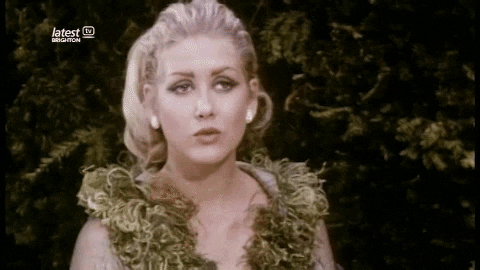 But it also needs to be seen from all angles, so here are some more:
It even has a butterfly on the bum for goodness sake! I really hope this piece still exists somewhere out there. In fact, I might have to make it my life's work to recreate it.
Fanny Hill's wardrobe is rather more Twenties/Thirties in style and with rich colours:
Oh, did I not mention that Fanny Hill is played by Joanna Lumley? To be honest, from what I've read I think she'd rather it never saw the light of day but I reckon it's one of the most interesting things she ever did. She also co-stars with her future husband, Jeremy Lloyd. Incidentally, Lady Chatterley is played by Penny Brahms, and I can't help but wonder if she was the inspiration behind 'Miss Brahms' in Jeremy Lloyd's Are You Being Served.
Lloyd plays her first seduction target: a gay drag artist, which leads Fanny Hill to pose as a man dressed as a woman – in full Georgian regalia. This party scene is also populated with genuine drag artists of the time and has an incredibly authentic feel. The credits read The "Queens" : Played by Themselves!, and I would dearly love to know who these people were because it must be incredibly ahead of its time in depicting this scene.
Lady Chatterley's target is a Bishop, and she starts to look a little more Thirties-does-Seventies at this point.
From here on I won't ruin the plot for you, such as it is, so will just post some more of my favourite outfits and hope that I have whetted your appetite. I appreciate that I have a very high tolerance for weird films, but I did really enjoy it.